"Nutrition is often linked most closely with physical health but there are strong associations with mental and emotional health, and this is bi-directional. Your mental and emotional health affect your diet and your diet affects your emotional and mental health" said Christina Nyhus Dhillon Senior Manager, the Global Alliance for Improved Nutrition (GAIN). She participated in Consumer Goods Forum's Collaboration for Healthier Lives (CHL) latest podcast episode, together with Erin Boyd Kappelhof, Co-CEO of Eat Well Global, to explore the connection between mental health and nutrition. They concluded that workforce nutrition can be an important lever to promote employee well-being.
The CHL Coalition's mission is to empower people to live healthier lives while creating shared value for business and communities, by focusing on consumers (both in stores and digitally) and on employee health and wellbeing.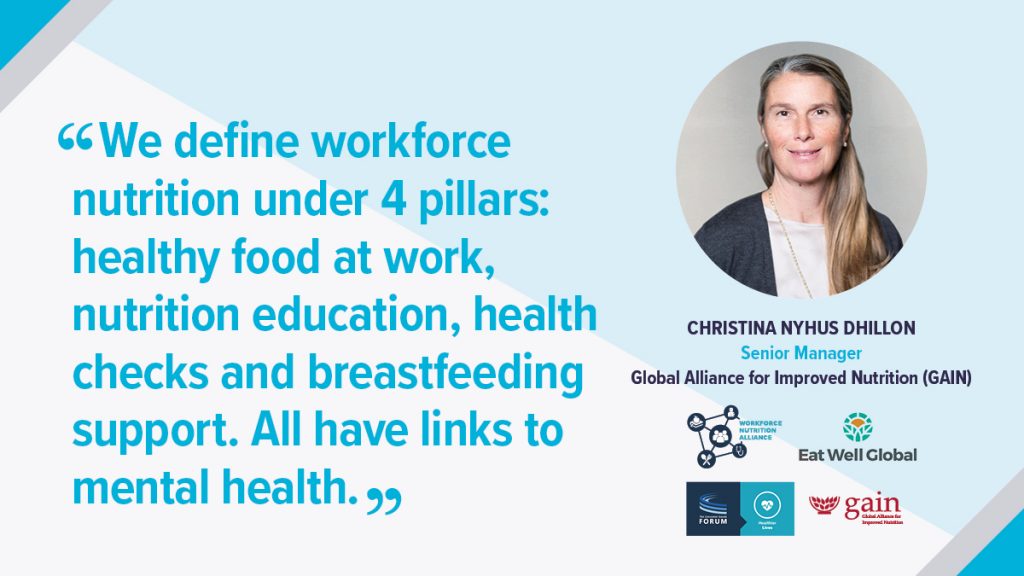 According to a recent scientific brief released by the World Health Organization (WHO), the COVID-19 pandemic has resulted in a 25% increase in anxiety and depressive disorders worldwide. The majority of this burden is borne by women and youth, and it costs the global economy US$ 1 trillion per year in lost productivity. The good news is that employers can take many effective measures to promote mental health for employees in the workplace. Nutrition plays an important role in this, and workforce nutrition programmes can make a difference.