WORKFORCE NUTRITION MASTERCLASSImprove your workforce nutrition programme
This masterclass is for HR professionals who work at companies that want to improve their workforce nutrition programme within one (or more) of our four themes: Healthy food at work, Nutrition education, Breastfeeding support, or Nutrition health checks.
Together with a global mix of participants, you will collectively go through this three month masterclass. The class combines interactive group sessions, coaching sessions and helpful tools to directly implement and use in your organisation. The entire course is offered online. 
At the end of the masterclass you will have built the foundation for a workforce nutrition programme that strengthens your company and improves the lives of its employees.
| | |
| --- | --- |
| Course | Workforce Nutrition Masterclass |
| Dates | September 2022 – November 2022 |
| Time investment | 2 to 4 hours per week |
| For who | HR Professionals |
| Price | € 1.495 excl. VAT (per person) |
GET ACTIVEJoin the masterclass
Enrolment for the masterclass is easy. Simply click the button below and fill out the form. After submission our team will contact you over email to finalise your sign up.
WHAT YOU WILL GETGet active in this masterclass
The masterclass is much more than just an online course. You'll receive practical tools to get started, learn from other best practices and gain individual advice to build your workforce nutrition plan.
Practical process for support
The masterclass follows a practical process that allows you to build a workforce nutrition programme for your organization.
Based on a business case
The masterclass is rooted in our evidence briefs which show a business case for workforce nutrition.
Expert sessions on nutrition themes
We work with specialised technical partners that share knowledge and practical advice during the masterclass.
Coaching sessions to help you make impact
We host coaching sessions during the masterclass to answer your questions or guide you to overcome hurdles.
Engaging online sessions
The core of the masterclass consists of regular virtual sessions. Here you will meet your peers from other companies.
Access to ready to use resources
The masterclass features a set of ready-made resources that make your implementation job a lot easier.
Community of peers
The masterclass will have participants from companies all over the world. Within this group you will exchange experiences.
Certificate of completion
At the end of the masterclass, we'll celebrate your performance and provide participants with a certificate of completion.
approachThe masterclass follows a practical process
Changing your workforce's nutrition can seem like a daunting task, but we're with you every step of the way. Our sessions and tools help you to build your workforce nutrition program in five steps.
PREPARATION
Preparation and kick-off
Self-assessment scorecard review.
THREE MONTH MASTERCLASS
Explore your situation
Live online sessions with experts and peers;
One-on-one coaching;
Access to tools and resources;
Certification and online visibility.
Define goals and activities
Develop your plan and start implementation
IMPLEMENTATION
Show your success
Global network of peers;
Support upon request;
Showcase success
HOSTSLearn from the best
The masterclass is provided by GAIN project managers and external professionals who build on years of workforce nutrition experience.
Mirjam Kneepkens
As a nutritionist with extensive
experience in supporting companies, she is in the perfect position to help you achieve your goals.
Liezel Engelbrecht
Equipped with expertise in communications and dietetics, she will support you with practical guidance
and creative solutions.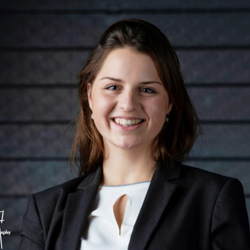 Annewies Hilberink
With a background in systems thinking for more healthy and sustainable diets, she can help you analyse your context and think through solutions.
MORE INFOCheck our sessions
Fast track for leaders: Strategy
In this recording we explain the best ways to build a workforce nutrition strategy. Its focus audience is global leads who aim to gain insights into how to set up a strategy for workforce nutrition in their organisations.
Fast track for leaders: Implementation
In this recording, we explain the best ways to implement a workforce nutrition at a worksite. Its focus audience is global leads who aim to implement workforce nutrition in their organisations.
COURSE SCHEDULEFive months of action oriented online sessions
Have a look below to get a basic understanding of the course schedule. Reach out if wish to receive a detailed planning.
WEEK
Planning
STEP
Five steps
CALLS
Number of calls
TOOLS
Tools made available each step
TIME
Time investment
1 – 2
Kick-off + themes
2 group calls
Meet other participants and learn more about the themes
4 hours
3 – 5
Explore your situation
1 group call
Understand your challenges and opportunities
3 hours
6 – 7
Define goals and activities
1 group call
Put your ideas and solutions on paper
3 hours
8 – 10
Develop your plan
1 group call
Think through your implementation and budget
3 hours
11 – 13
Close-out
2 group calls
Share your learnings and success!
4 hours
FREQUENTLY ASKED QUESTIONSAll you need to know about the masterclass
We are happy to help you on your way. Find answers to commonly asked questions about the Masterclass below or reach out if you need additional support.
TALK TO USGet in touch with our team
Difficulty deciding? We get it, workforce nutrition might be new to you and you're not entirely sure how the masterclass will help you or your organisation. Our team is happy to have a chat and answer your questions.