At Dobi Agrico, we are committed to growing the most organic and healthy produce for customer consumption. At the same time, we strive to ensure the well-being of our greatest asset, our workforce, and we are convinced that workforce nutrition helps us to increase our employee welfare.
Participating in the Workforce Nutrition Masterclass has helped me plan and implement important aspects of workforce nutrition programmes. The Masterclass is the technical support programme offered by the Workforce Nutrition Alliance (WNA). While I pretty much concentrated on one of the four pillars of workforce nutrition – breastfeeding support – I was also inspired personally to eat more healthily, and it is not just me. Since we embarked on the programme at our worksite, we slowly but steadily moved towards a healthier workplace lifestyle.
I must admit that prior to being tasked with the responsibility for our workforce nutrition programme at Dobi Agrico, I had never considered the fact that many of our employees, who mainly live in rural areas, have limited options for nutritious foods and living healthy lifestyles.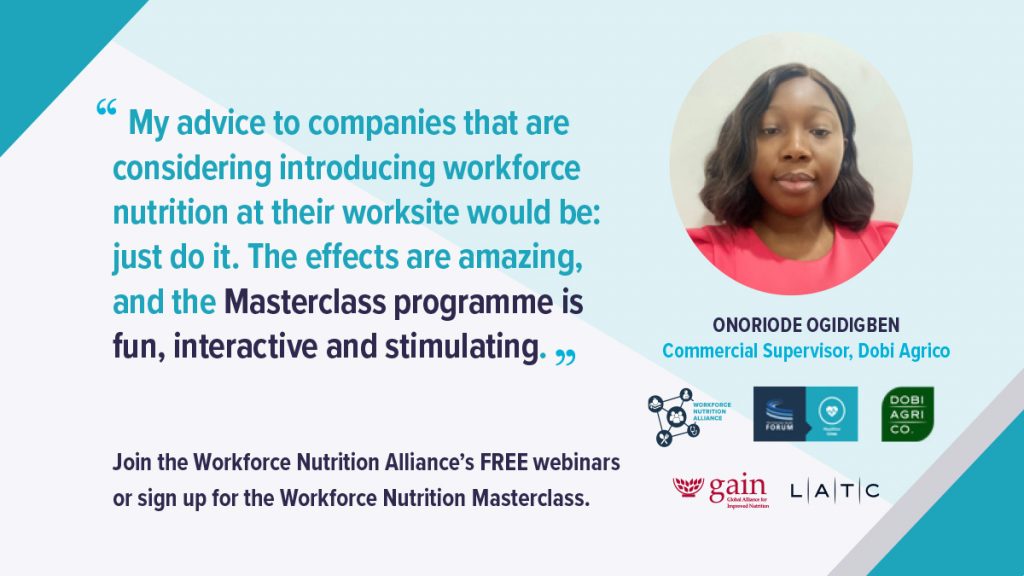 Now, I am motivated to help them access healthy food options at work and to educate them about healthier nutrition. The good news is that we are almost done with the construction of our new farm canteen. In addition, I successfully pitched the idea for a 25-square-foot lactation room, which will now be included in the construction plans for the farm creche.
Looking back to my experience over the past months, the three most important take-aways are:
Do not be afraid to take a chance on something you know is beneficial to people even if you experience some initial pushback.
Every organization should take the nutrition of its workforce seriously, as it will help to improve their lives, and
Small steps can change lives on a greater scale.

The Masterclass programme coordinators were extremely encouraging and gave me the strength to push forward with the programme. My advice to companies or decision makers who are considering introducing workforce nutrition at the worksite would be: just do it. The effects are amazing, and the Masterclass programme is fun, interactive and stimulating. It is intensive, and you get the chance to learn from the experiences of a diverse group of people working all over the world. And it can help shaping how you carry on in your organization.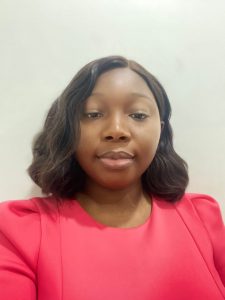 Onoriode Ogidigben
Commercial Supervisor at Dobi Agrico
Onoriode Ogidigben is the Commercial Supervisor for Dobi Agrico formerly LATC Agro, a subsidiary of LATC Group, a leading Nigerian agriculture company specializing in fresh high-quality vegetables integrated across the value chain of production, trading, processing, and distribution.
Dobi Agrico is a major supplier of fresh farm produce to major customers in the B2B and B2C market segments, Onoriode's role is to ensure that the business is focused on achieving its strategic objectives of delivering quality produce and providing adequate service to its customers.
She has an accounting background and a BSc from Babcock University in
Ilishan-Remo, Ogun State.