The World Benchmarking Alliance (WBA) 's 2023 Food and Agriculture Benchmark measures and ranks 350 of the world's most influential food and agriculture companies on their contributions to transforming our global Food System to ensure the sector is held accountable for its impact. The companies are measured against 46 indicators in four overarching categories.
Workforce Nutrition (C5) is one of the six indicators within the Nutrition category. This makes workforce nutrition an important contributor to organisations' overall assessment.
The benchmark results reveal that most companies fail to recognize their responsibility to protect the planet and provide equitable access to food worldwide. However, there also is positive news. From 2021 to 2023, there is a rise in the number of companies implementing workforce nutrition programmes, increasing from 85 in the 2021 Food and Agriculture Benchmark findings to 110.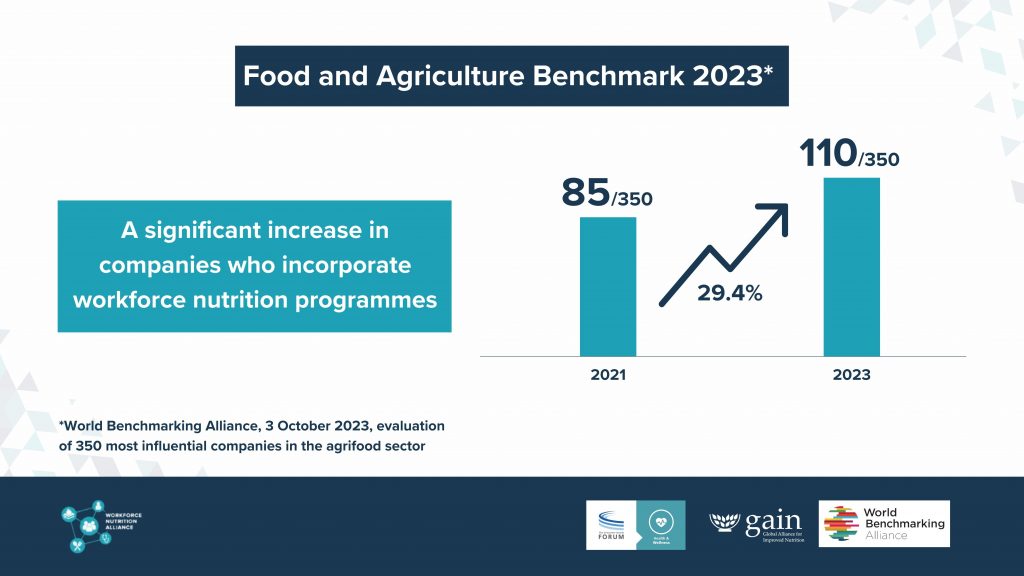 Moreover, results from the dataset also show that:
74 out of 350 companies implement nutrition-focused health checks or nutrition education.
62 out of 350 companies have breastfeeding support programs or policies in place.
33 out of 350 companies provide healthy food at work for their employees.
This uptick underscores the growing acknowledgement of the crucial role nutrition plays in the well-being and productivity of employees. The Workforce Nutrition Alliance provides a range of support services to executives tasked with developing or implementing workplace nutrition programs. These services include scorecards, guidebooks, and webinars, as well as a three-month online "Masterclass".