Access to Nutrition Initiative's recent US Access to Nutrition Index 2022 compared commitments of the eleven largest food manufacturers operating in the US about the delivery of healthy, affordable food and beverages to help consumers have healthier diets and prevent hunger. These include Campbell Soup, Coca-Cola, Conagra Brands, General Mills, Kellogg, Keurig Dr Pepper, Kraft Heinz, Mars, Nestlé, PepsiCo and Unilever.
Many companies scored slightly higher compared with the previous 2018 index.
"We see some improvements, but we cannot afford such slow progress Both private and public sectors need to do much more to improve the diets of US families", said ATNI's Executive Director Greg S. Eliott.
Amongst many aspects, the ATNI report highlighted that US companies have one of the highest rates of mothers with infants in the workforce (57%). However, the US also lacks mother-friendly workplace policies compared to other high-income countries. No surprise that ATNI urges companies to develop workforce nutrition programs that integrate elements of the WNA pillars, including healthy food at work, nutrition education, nutrition-related health checks and #breastfeeding support.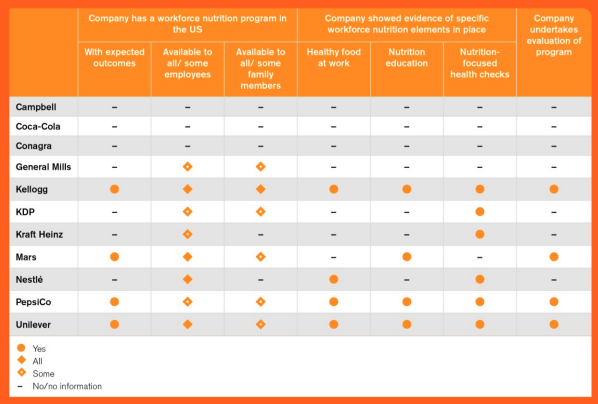 These contribute to the health of the workforce and their children, and it ultimately provides benefits for employers as well, including increased productivity, reduced absenteeism and a decrease in healthcare costs.
* * * * *
Register now for WNA's webinar "Fast Track for Leaders #2: Inspiring best practice examples – case studies from different industries" on 9 November 2022, in which we will focus on planning and implementing workforce nutrition programmes. Due to the increasing interest from Latin American companies, simultaneous translation in Spanish will be offered.