In its third year, the Workforce Nutrition Alliance, launched by The Consumer Goods Forum (CGF) and the Global Alliance for Improved Nutrition (GAIN), achieved several milestones in its endeavours to reach three million employees in organisations and supply chains by 2025 and over ten million by 2030.
Bärbel Weiligmann, Lead Workforce Nutrition at the Global Alliance for Improved Nutrition (GAIN), said: "We made a big leap when the World Benchmarking Alliance (WBA) and the Access to Nutrition Index (ATNI) updated their respective methodologies to measure companies against workforce nutrition indicators, emphasising the role of workforce nutrition as a measurement area."
Out of the 350 global organisations from the food and agriculture industry benchmarked by WBA and ATNI, 97 reported implementing one or more of the workforce nutrition pillars.
In addition, twelve global organisations pledged to apply the Nutrition Accountability Framework (NAF), the world's first global public platform for committing to and monitoring nutrition action.
On a local level, September 2022 was a special month. It marked the launch of the first National Workforce Nutrition Alliance in Bangladesh by the Department of Labour under the Ministry of Labour and Employment, with the goal of catalysing action and ensuring sustained improvements in workers' nutrition.
Furthermore, two cohorts, which comprised thirty participants across fifteen countries, completed WNA's Workforce Nutrition Masterclass. It is a programme designed specifically for HR and sustainability professionals who are looking to improve workplace nutrition in their companies.
And that's not all. During 2022, 223 scorecard assessments were conducted across 30 organisations, reaching worksites in 43 countries. Among these, 43% categorised themselves in the two top levels (6% Gold, 37% Silver). The evaluations were carried out using the WNA's self-assessment scorecard as a starting point for achieving an effective and impactful workforce nutrition programme.
Workforce nutrition is an indispensable tool for companies that recognise their responsibilities to care for their employees. Additionally, it is a wise business move because of the resulting business benefits: a healthier workforce results in increased productivity, decreased absenteeism, and better employee retention and loyalty. This successful blend of results decreases expenses and can have a positive impact on the bottom line.
Looking ahead to 2023, we have two key events planned for March:
a webinar focusing on the WBA Food and Agriculture Benchmark and its recent modifications in the workforce nutrition scoring (link), and
the kick-off of the Workforce Nutrition Masterclass (link), the three-month training and coaching programme for HR and sustainability executives involved in planning and implementing workforce nutrition programmes.
Sharon Bligh, Health & Wellness Director at the Consumer Goods Forum (CGF) stated, "We've had a great year in 2022 and we're determined to keep up the momentum, continuing our efforts to engage with organisational and corporate leaders. Follow our #WellbeingAtWork awareness campaign where we will tackle topics such as Healthier Food at Work and Nutrition Education. And expect to see us at international events and on panel discussions".
This infographic summarises the 2022 highlights.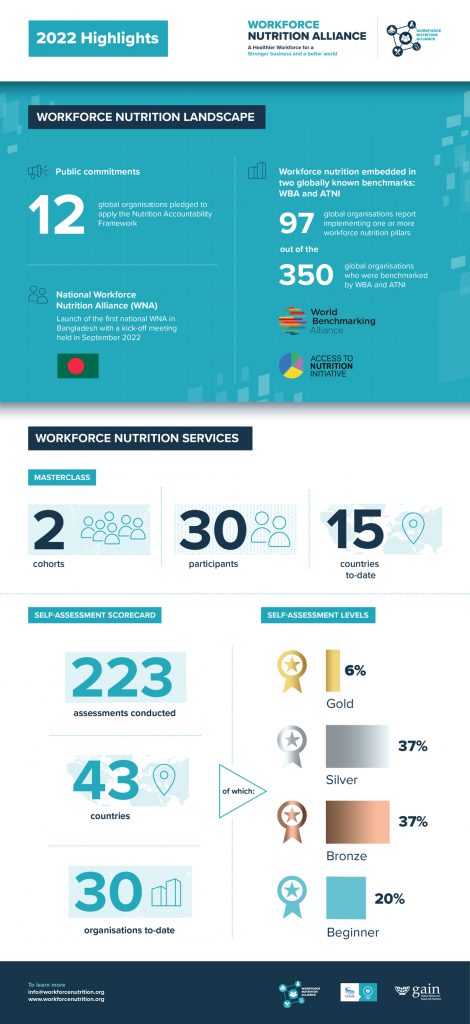 ---