Through a dedicated workforce nutrition programme, Olam Agri Rubber in Côte d'Ivoire does not only champion employee health, but they are also concerned with internal gains such as higher productivity and employee morale. "We are committed to improving working conditions for employees," says Romuald N'takpe, Sustainable Rubber Procurement Officer at Olam Agri Rubber.
He says the company decided to join the Workforce Nutrition Alliance (WNA) and its Masterclass programme1 because they want to give their workforce the best nutrition options and provide them with relevant training and support regarding nutrition challenges. "By doing this we hope to improve their health and prevent nutrition related diseases," says N'takpe.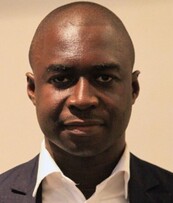 Breastfeeding at work
Breastfeeding support at work is one of the key pillars the WNA focuses on, as there is compelling evidence that breastfeeding has significant benefits for babies, such as reducing the risk of disease. Supporting breastfeeding at work thus indicates an organizational commitment to a healthier workforce in the long-term and can have the additional benefit of reducing employee absenteeism as a result of healthier children.
At Olam Agri Rubber, they also understand this benefit. "We firmly believe that babies who are well nourished through breastfeeding will be healthy, and if the children are very healthy, the mothers can be fulfilled and work better without worry," says N'takpe.
Innovative plans
For their workforce nutrition programme the company didn't only want to focus on improving the canteen food offering, but also wanted to create an enabling environment for female employees to breastfeed their babies. Approximately 14% of the permanent staff and 17% of the temporary staff at the Olam Agri Rubber plant are women.
They however had challenges in finding space at their factory where lactating mothers could continue to breastfeed once they return to work. Through assessing their situation, they came up with an innovative plan. They arranged to modify a prefabricated container to use as a lactation room.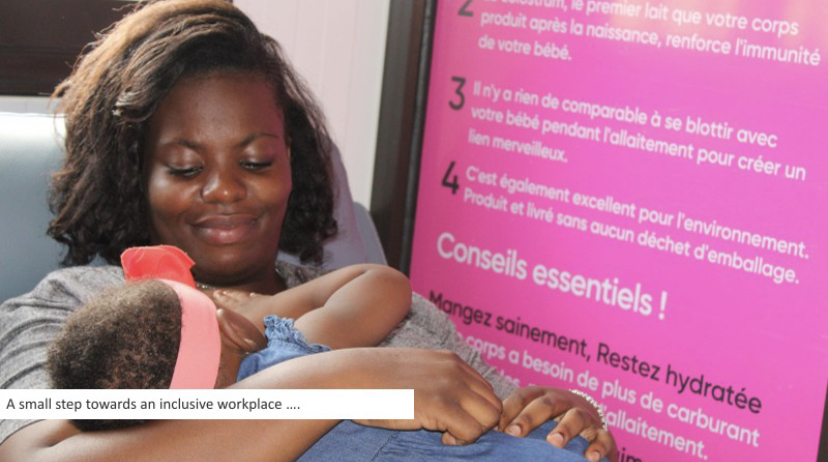 In addition to this, they took note of other possible barriers for women to continue providing babies with breastmilk. "In our context, women are not used to breast pumps, even if they work. So we decided to allow them to breastfeed their babies directly. We have now implemented the following: every day at 9:45 a bus will collect the babies and their 'nannies' from the usual pick-up points (in villages) to transport them to the factory, where their mothers can then visit the new lactation room to see and breastfeed their babies. The babies and their 'nannies' are then taken home afterwards."
He says the women are very happy with this initiative and welcome the opportunity to strengthen the ties between them and their children, and also to continue breastfeeding.
Other challenges and opportunities
N'takpe says another key challenge they are still working on is to change the nutrition habits and perceptions related to certain foods among the whole workforce. "Most of our employees come from villages around the plant, and they are not used to eating 'green food'. But we hope, step-by-step, that this can be improved through nutrition education."
According to N'takpe, the main opportunity for any workforce well-being programme is top management's benevolence, which in the case of Olam Agri Rubber has led to the acceptance of the proposal of offering a breastfeeding room to women. "It also helps them to continue to make sure work conditions are better as employees are at the heart of the Olam strategy. We believe the workforce is the main capital of the organization."
How to kick-start your programme
Though every organization will have their own set of challenges and goals, N'takpe found the Masterclass programme valuable for establishing their programme. "The curriculum is relevant, adaptable to each organizations' realities, and explores strong tools to elaborate your planning, reflect on your budget, to monitor and oversee activities, and to track impact. The one-on-one coaching sessions also assisted to understand our organizational realities and propose what can work well."
References
[1] The Workforce Nutrition Alliance Masterclass is a course designed to assist organizations in the strategic planning, developing, and executing of a comprehensive workforce nutrition programme. Over the span of 3 months participants partake in a blended learning experience, consisting of interactive virtual group training sessions, online access to exclusive tools and resources, and one-on-one coaching sessions. This capacity-building programme is an excellent opportunity to learn and connect with like-minded professionals from across the globe, such as in-house HR-managers, sustainability executives and other managers or consultants concerned with employee wellness. The time investment is approximately 2 hours per week. Click here to learn more.