Workforce Nutrition was one of five major focus topics during an Independent Food Systems Summit Dialogue, that was organised as a side event during the WEF Annual Meeting in Davos (24 May 2022).
Hosted by Bayer, Clim-Eat, and the World Farmers' Organisation the Dialogue brought together fifty global leaders representing diverse stakeholder groups, including farmers, researchers, international organizations, and businesses from Asia, the Americas, the European Union, and Africa.
Participants came together in a hybrid model to discuss the next steps in implementing the actions that were established at the UN Food Systems Summit. Following high-level presentations, participants split into five groups for intensive, facilitated discussions to plan next steps to advance food systems transformation. Please follow the link to read the full report of the Independent Food Systems Summit Dialogue.
Under the headline "Develop commitments, action, and partnerships with the private sector" one break-out session was chaired by the Workforce Nutrition Alliance (WNA).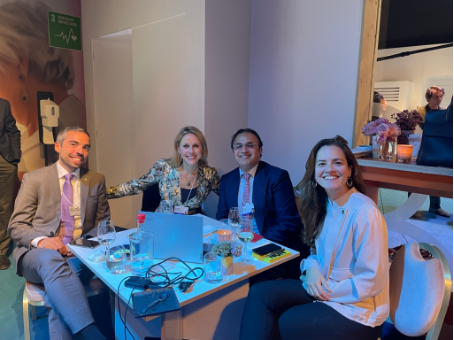 Facilitated by Rebecca Marmot, Unilever's Chief Sustainability Officer (photo: 2nd from left), the participants identified the following action points to implement workforce nutrition, which they shared with the plenary later:
1.Use the workplaces and supply chains as entry points to directly reach millions of workers and farmers across the food and agriculture value chains. As people spend over one-third of their lives at work, investment in workforce nutrition still remains a relatively untapped platform to tackle malnutrition.
2.Support the nutrition of workers and farmers through programmes that increase access to and knowledge of good nutrition practices. Best practices from companies show it is necessary to:
Use the WNA Scorecard to conduct a self-assessment exercise that will help you understand where you can improve your programmes, set SMART goals and build a clear and comprehensive strategy to achieve them'.
Seek partnerships to exchange best practices and make this happen
Dare to connect with external organizations that can help you on your way
Include and empower ambassadors for your workforce nutrition program, who can hear and vocalize the needs of workers on the ground.
Recognize that employees are also consumers.
It was also highlighted that workforce nutrition delivers proven benefits for employers, workers, and communities as it contributes to healthier lives of citizens, improved commercial results and more stable labour relations. The private sector is also a valuable source to finance innovation and technology; incentivize farmers for maintaining and repairing soil; address the needs of smallholder farmers; use data and tech to scale-up payments for ecosystem services; and incorporate the price of food into the true costs to nature.