There is growing momentum for national companies in Bangladesh to improve workforce nutrition.
More than 60 executive leaders from industries such as fish hatcheries, agro-food processing, dock and shipyards, frozen food processing, and seafood were invited, by Khaled Mamun Chawdhury, Director General of the Department of Labour, to attend the first official meeting of the Bangladesh National Workforce Nutrition Alliance (NWNA). The meeting, which focused on the benefits of becoming an Alliance member, was also attended by representatives from NGOs and the informal sector.
Khaled Mamun Chawdhury said, "The issue of good nutrition of strategic national importance. If workers' nutrition can be improved, their contribution can improve the overall development of the country."
The event was a great opportunity to update participants on basic nutrition knowledge and food safety, and to inform the audience about the importance of safe and nutritious food consumption. In group work sessions, participants discussed concrete suggestions and recommendations to further develop the National WNA in Bangladesh.
Many executives expressed their desire and intention to join the Alliance.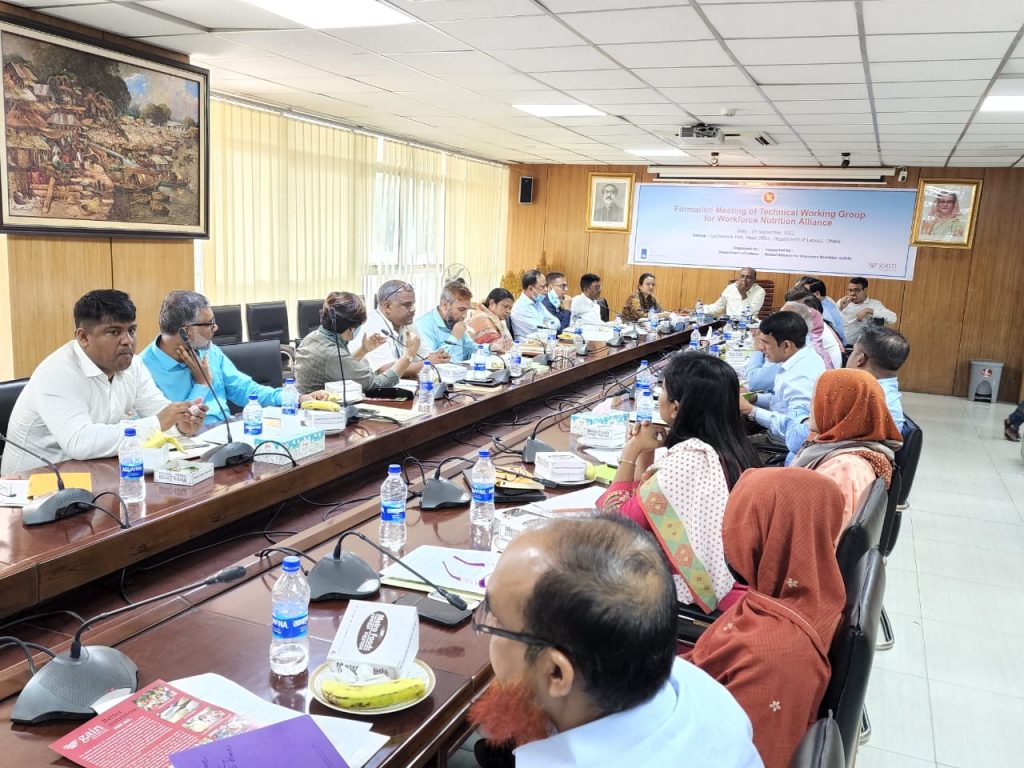 Khurshid Alom, Director of Khulna Dockyard Owners Association, who chaired the meeting, said, "Through this workshop, we learned that the productivity of a worker is negatively impacted by malnutrition. We now understand that good nutrition can improve the productivity or work capability of the worker.".
The National Workforce Nutrition Alliance (National WNA) was launched on 5 September 2022 by the Department of Labour, under Bangladesh's Ministry of Labour and Employment guidance. The objective is to catalyse action and ensure sustained improvements in workers' nutrition. Implementing workforce nutrition programmes across the value chain will also help deliver the Sustainable Development Goals.
Against this backdrop, Bangladesh's National Workforce Nutrition Alliance aims to support employers in ensuring their employees have access to healthy food, breastfeeding support and nutrition-focused health checks.