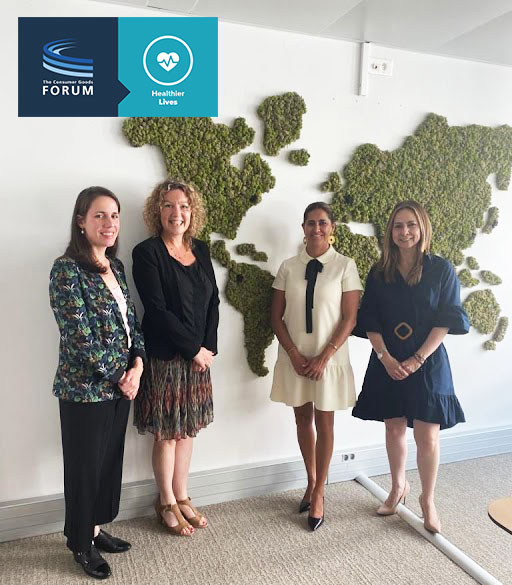 The First Lady of Colombia, Maria Juliana Ruíz Sandoval, and Carolina Salgado, the High Counsellor for Youth and Adolescents, met in Paris on 29 June 2022 to discuss how to deliver concrete actions on health and positively impact the people of Latin America. The meeting was organised by Workforce Nutrition Alliance's partner, the Consumer Goods Forum (CGF).
The First Lady and Ms Salgado were joined by CGF's Healthier Lives Director Sharon Bligh, Managing Director Wai-Chan Chan and Saul Morris, Director of Programme Services at the Global Alliance for Improved Nutrition. They agreed to work together to cement nutrition as a key development topic in the region to ensure better nutrition across Latin America.
Discussions also covered the work of the Collaboration for Healthier Lives Coalition. CGF members are collaborating to change in-store environments and supporting childhood nutrition, and with the Workforce Nutrition Alliance as workforce nutrition also continues to be a key area of focus.
The First Lady emphasised the clear role business has to play in the prevention of diet-related health issues. She was pleased to see how CGF members were now leading the way and offered her own support to help act as a convening power in Colombia and across the region, using her First Ladies Network to support the drive.
Sharon Bligh confirmed continued action in the region, starting with the first Spanish language workforce nutrition webinar on Thursday 7 July 2022. The webinar will showcase how organisations can build a workforce nutrition strategy, highlighting concrete examples from industry front runners, and introducing tools and resources that are available through the Workforce Nutrition Alliance. The First Lady has kindly agreed to be an integral part of the webinar, giving a special message to the attendees.
Read the full article here.